Over the years, the gallery space at Mississippi Library Commission has hosted art exhibits featuring some of Mississippi's finest artists.  These shows provided an opportunity for members of the community to connect with one another through the power of the arts.   Moving forward we will be partnering with other state agencies to showcase educational exhibits, art shows, traveling exhibits and other things of interest to members of the community.  Stay tuned for more news about these exciting changes.
CURRENTLY IN THE GALLERY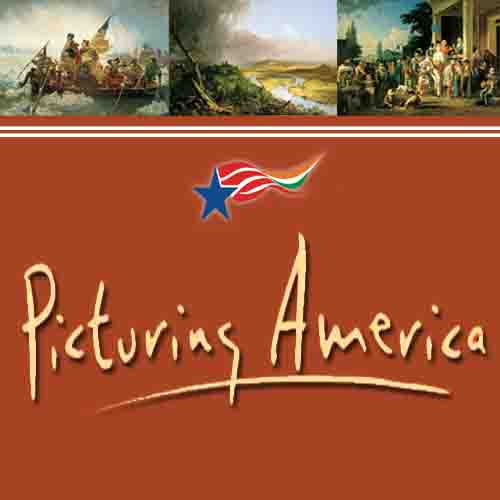 Great art speaks powerfully, inspires fresh thinking, and connects us to our past.
Picturing America, a project of the National Endowment for the Humanities, told America's story through its art in forty large, high-quality reproductions of selected masterworks of American art from 1100 to 1996. Designed to reach K-12 classrooms around the country, the project also featured an in-depth Teachers Resource Book that provided educators with ideas and background information for using the works of art in core subjects, as well as a dynamic online compendium of lesson plans, interactives, and more.
During its lifetime, Picturing America was distributed to over 55,000 schools and public libraries. In partnership with the Administration for Children and Families in the U.S. Department of Health and Human Services, it also served 20,000 Head Start centers across the country.
Check out these great videos on the pieces of artwork featured in the exhibit at http://www.thirteen.org/picturing-america/
General: mslib@mlc.lib.ms.us
Talking Book Services: talkingbooks@mlc.lib.ms.us
Library/Reference related questions: mlcref@mlc.lib.ms.us
Technical questions about